Treenaa ja pelaa Grégory Gaultierin (Ranska) kanssa 17.-18.9.2022 Esport Centerissä Espoossa!
Entinen maailmanlistan ykkönen ja urallaan myös maailmanmestaruuden voittanut huippuammattilainen Grégory "The French General" Gaultier (Ranska) saapuu syyskuussa 2022 Suomeen. Viikonloppuna 17.-18.9. suomalaisilla squashin ystävillä on ainutlaatuinen mahdollisuus osallistua Gaultierin valmennustuokioihin sekä su 18.9. kaikkien osallistujien kesken pelattavaan pienimuotoiseen turnaukseen, johon myös itse Mestari Gaultier osallistuu. Ohjelmassa on myös Gaultierin ja suomalaisen huippupelaajan välinen näytösottelu.
Valmennussessioissa on noin 6 osallistujaa / ryhmä, ja Gaultierilla on apunaan 1-2 suomalaista koulutettua valmentajaa.
Tutustu ohjelmaan täällä ja ilmoittaudu mukaan 15.8.22 mennessä!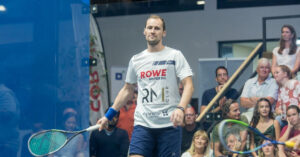 In English:
CAMP GAULTIER 2022 IN ESPORT CENTER 17th-18th SEPTEMBER 2022
Former world nr 1 and World Champion Grégory Gaultier (France) will visit Finland in September 2022.Finnish friends of squash will have a unique opportunity to take part in Gaultier's coaching sessions (1, 5 hours, ca. 6 persons/group) and also enter a mini-tournament where also "The French General" himself will play! On Sunday there will also be an exhibiton match between Gaultier and a Finnish top-player.
Read more and sign in here latest 15th August.
Contact: campgaultier2022@gmail.com