Suomen Squashliitto järjestää yhdessä ESRC:n kanssa squashin joukkueEM-kilpailut, jotka pelataan Esport Centerissä 27.-30.4.2011.
Tule Esportiin katsastamaan Euroopan huippumies- ja naispelaajat tai katso pääkenttien tapahtumia livenä netissä. Suomen miesten joukkue kohtaa ensimmäiseksi Ukrainan. Ottelu alkaa ke 27.4. klo 10. Suomen naisten joukkueella on ensimmäisenä vastassa Wales, keskiviikkona alkaen klo 15. Suomen miehillä on keskiviikkoiltana klo 20 vastassa seuraavaksi Belgia. Tarkista tästä kisojen aikataulu.
Suomen päävalmentajan, Mike Harrisin terveiset suomalaisille squashfaneille 22.4.2011:
Dear Finland Squash Enthusiasts,
It's only 5 days until the European Team Championships begin at the Esport Center, Espoo. The Glass Court is up and looks amazing, the players are getting used to the conditions of the court which is very unforgiving if you don't get the ball to the back of the court.
It's not often we get the opportunity to see so many of the world's best squash players in Finland so I hope you'll do your best to come along to support the event and to cheer on Team Finland. The ETC Information including who is playing for each team and schedule of matches can be found on either
http://www.squash.fi/etc2011/
or
http://www.squashsite.co.uk/etc11/index.htm
Team Finland and I look forward to seeing you next week.
Kind Regards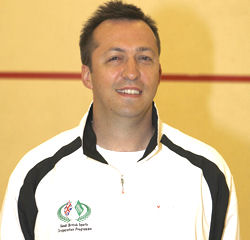 Mike Harris
Head of Coaching