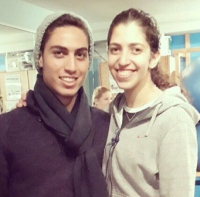 Tervetuloa Espooseen, kun egyptiläinen squashvalmentaja Islam Adel (kuvassa squashammattilaissiskonsa Yathreb Adelin kanssa) ohjaa treenit kahdelle ESRC:n eliittivalmennusryhmälle keskiviikkona 11.2.2015 klo 17.45-20.45 Esport Centerin yläkerrassa. Kaikki squashvalmennuksesta kiinnostuneet ovat tervetulleita mukaan seuraamaan treenejä!
Tässä yhteenveto Islamin tähänastisesta squashurasta:
I am Islam Adel from Egypt, 21 years old.
I study business administration (finance major) in the British university in Egypt and I'm graduating this year. I've been playing squash since I was 9 years old and I joined the national squash team when I was playing in under 13. During my junior career, I was one of the top players in Egypt, U13,15 I was ranked 2nd. U17 I played only a few tournaments because of an injury, but I won an international tournament (ATCO Junior Open), and also beat number 1 seed in the British Junior Open. In under 19 I won many national tournaments in addition to the Arabs Junior Championships. Moreover, I won many titles with my club in the Egyptian league as we have been dominating it for the past 7 years (juniors and seniors).
As for my coaching career, I have been coaching my sister Yathreb Adel, the 5 times British Junior Open champion, runner up in the World Juniors, for the past 4 years. Also I coach some junior top players and PSA players as well.
I'm looking forward to coming to Finland soon.
Best regards,
I. Adel